Earlier this year, the $12.6 billion-asset community bank began running a season-long "strikeout promotion" benefiting Junior Achievement of Southeast Texas and its financial literacy, entrepreneurship and work readiness programs.
The Houston branch of Veritex Community Bank, headquartered in Dallas, Texas, teamed up with World Series Champion pitcher Ryan Pressly of the Houston Astros. For every strikeout Pressly throws throughout the 2023 MLB regular season—March 30 through Oct. 1—Veritex Community Bank will donate $100 to Junior Achievement of Southeast Texas.
The nonprofit is dedicated to helping youth develop the foundational skills and mindset needed to prepare for the future. It collaborates with teachers, volunteers and corporate partners to ensure that students learn financial literacy and prepare themselves for meaningful careers. The lessons focus on making decisions about education, entrepreneurship and real-life situations. More specifically, Junior Achievement helps children of every age apply what they're taught in school to their futures.
A matched set
In a boost for the Southeast Texas chapter's fundraising, Pressly himself will match Veritex's donations dollar for dollar, a commitment he is eager to uphold this season.
"I want to help instill positive financial habits and look forward to working with Veritex Community Bank and Junior Achievement to accomplish this feat."

—Ryan Pressly, Houston Astros
"Managing your finances is so important," said Pressly in a press release published by Veritex. "One misstep could ruin your credit and take years to recover. I turned to personal research to help me along the way, and I would love to the be person who brings financial literacy to the top of conversations with our youth. I want to help instill positive financial habits and look forward to working with Veritex Community Bank and Junior Achievement to accomplish this feat."
"This just makes the season even more exciting," says Jon Heine, senior executive vice president for Veritex Community Bank and president of the bank's Houston market. "Veritex Community Bank has been a partner with the Houston Astros since 2019, and now we get to work with one of the best closers in the MLB, all while contributing to financial literacy for teens. This promotion makes me proud to be in banking, [as] an Astros fan and an advocate for financial literacy. Everybody wins this season!"
Community bank advocate
How did the community bank convince Pressly—a 2019 and 2021 MLB All-Star—to become part of the initiative? Well, it was actually Pressly who had approached the bank.
"Ryan Pressly came to Veritex with the idea after winning the World Series in 2022," according to Heine. "Ryan was an admirer of Veritex's work in the Houston community, specifically our passion around youth financial literacy, which the Pressly family also shares."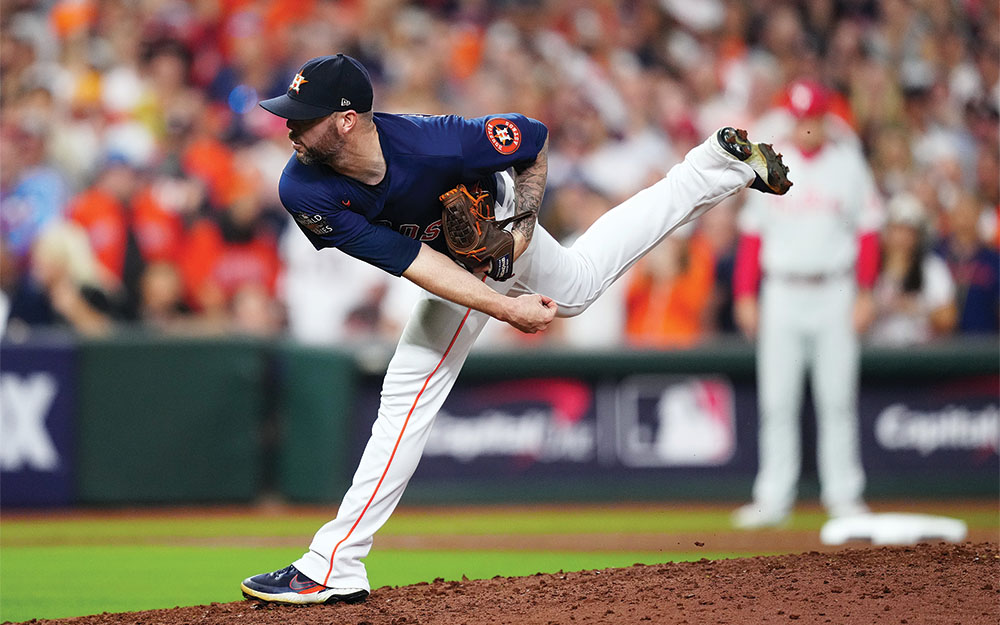 Junior Achievement of Southeast Texas was the logical beneficiary of the community bank's donations. "Veritex has been a long-time supporter of Junior Achievement and the work it does in our local community," says Heine. Junior Achievement's BizTown experience alone has affected nearly 500,000 young people. BizTown is an immersive simulation that allows students to run businesses, write checks, practice civil engagement and more; each of them leave with a solid foundation of business, economics and free enterprise education.
This season, Veritex is taking a tenacious approach to its financial donation plan for Junior Achievement. "Our intent is to drive a season-long competition for our colleagues and clients in Houston who love watching the Houston Astros," says Heine. "Our ultimate goal is to raise over $10,000 for Junior Achievement. In fact, we think we will exceed our goal, as the Pressly family is matching our donation dollar for dollar."
Heine is optimistic about the promotion's outlook: "Based on Ryan's strikeout total last year and a few extra for good measure, we estimate that we will raise over $12,500 this year."
This isn't a standalone act of philanthropy. "Along with Junior Achievement, we are involved with Star of Hope and other organizations that provide youth financial literacy in the markets we serve in Houston, Dallas and Fort Worth," Heine says.
As far as what's in it for the bank, the answer is simple. "Veritex benefits by helping the youth in Texas develop the foundational financial literacy and mindset to prepare them for the future," Heine says.
---