Methodology
Using FDIC data for 2020, we calculated a lender score out of 100 for each community bank. The score combines the average of the bank's percentile rank for lending concentration and for loan growth over the past year in each lending category. We then adjusted each score for loan charge offs in each category at certain percentile thresholds.

AGRICULTURE
How First Western Bank weathered 2020
Success in agricultural lending depends on many factors, and one of them—the weather—cannot be controlled by the farmer or their community banker. In 2020, the weather was good for the farmers and ranchers who count on First Western Bank & Trust for credit, and in turn, it was a strong year for the community bank.
First Western Bank & Trust
Minot, N.D.
Asset size: $1.85 billion
Ag lender score: 76.44
Rank in category: 17
"We had some timely rainfall, so we ended up having some very good yields in our area," says Tom Larson, senior vice president, commercial and agricultural lending. "And with the increase of some prices and the government support payments, it ended up being a good year overall."
The successful farm yields of 2020 were a pleasant change from the previous few years, says Larson, whose customers include cattle ranchers and wheat, soybean, corn and canola farmers. In 2018, crop prices were lower. In 2019, excessive rain fell during the harvest, which reduced quality of the crops and created problems for farmers getting their crops in.
In 2020, in contrast, farmers and ranchers in some other parts of the world had reduced inventory, which pumped up crop prices overall.
"And then there were some very good government support payments in 2020, some from the COVID stimulus and some from tariff relief," Larson says.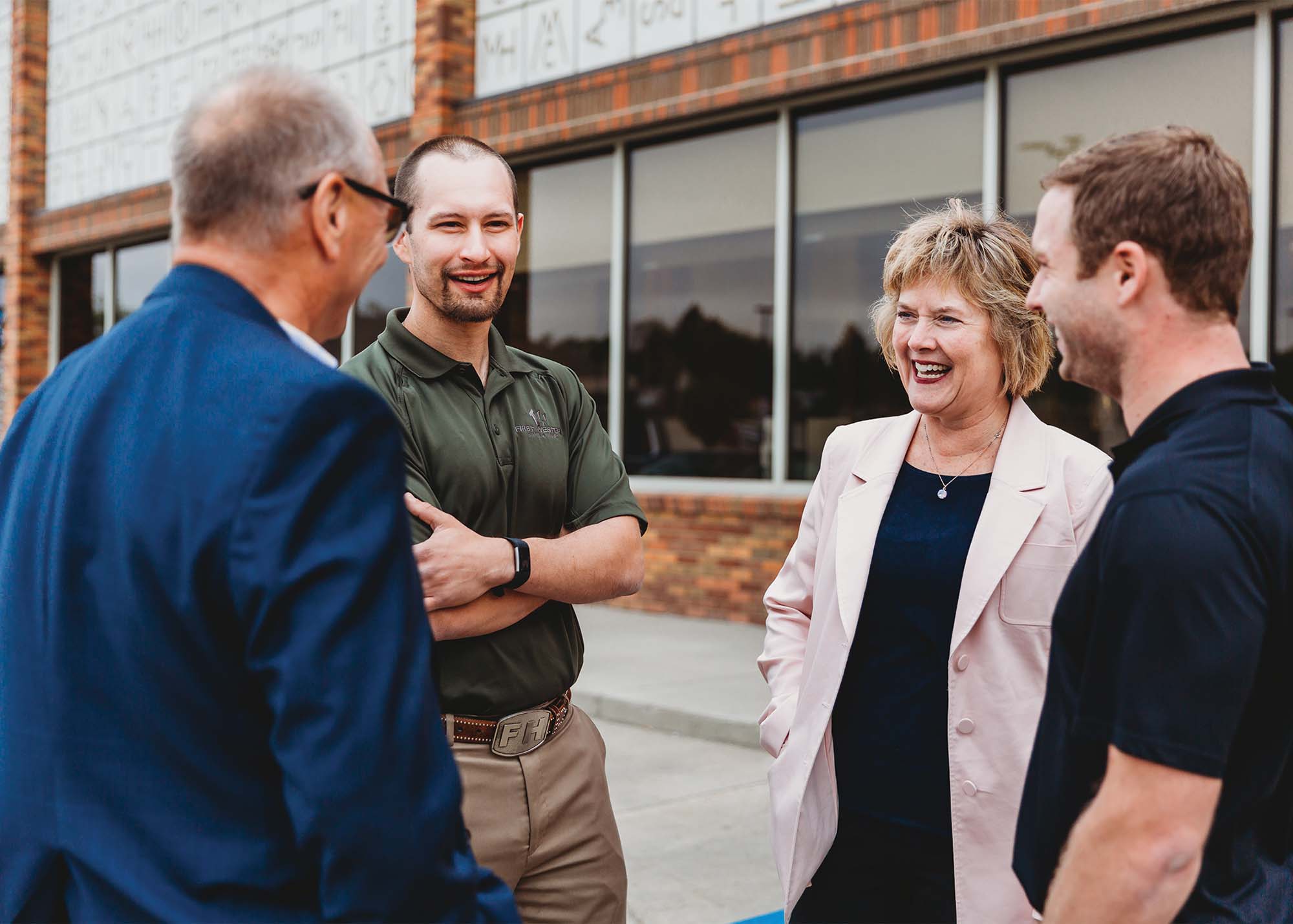 The community bank way
But there's more to First Western Bank & Trust's success than just good yields and good weather.
"[Our lenders] have worked with our borrowers through many peaks and valleys. The borrowers know we will present them with a solution that works for everyone."

—Brenda Foster, First Western Bank & Trust
"It's all about building the relationships with the customers," says president and CEO Brenda Foster. "[Larson] has been in the industry for many years. He and our other lenders have worked with our borrowers through many peaks and valleys. The borrowers know we will present them with a solution that works for everyone."
Regular visits to farms and ranches help the lending team understand their clients' businesses and their needs, Larson says. On the customers' end, those visits help farmers and ranchers feel at ease working with the community bank.
"Sometimes, they feel more comfortable being on their own turf than always coming into our office," Larson says. "And then when they do come in to talk about a specific piece of equipment or parcel land that they need, we know what they're talking about, because we've seen it."
Foster also credits the bank's board of directors—several are local business owners—for being understanding when a borrower hits a rough patch and can't make payments as anticipated. They observe the same conditions as local farmers and ranchers, so they know what's going on and allow Foster and her team to continue working with the borrower.
A prominent indicator of First Western Bank & Trust's ag customer relationships can be found at the entrance to its headquarters in Minot, N.D. There, you can find a collection of local ranchers' brands imprinted in stone.
"Most of the brands were placed there by farmers in our area starting when the bank was founded in 1964," Foster says. "They connected them to the bank. They really gave them a sense of ownership. When they came in with family or their children, they would show them the brand."
Agriculture: Less than $500M in assets

Rank
Bank Name
City
State
Ag Lender
Score
1
Chambers State Bank
Chambers
NE
96.36
2
The Union Bank
Beulah
ND
96.35
3
Community State Bank
Colon
NE
96.28
4
Nebraska State Bank
Oshkosh
NE
96.07
5
State Bank of Scotia
Scotia
NE
95.25
6
Riverstone Bank
Talmage
NE
95.07
7
KodaBank
Drayton
ND
94.63
8
State Bank of Taunton
Taunton
MN
94.54
9
First Community Bank of the Heartland, Inc.
Clinton
KY
94.35
10
The State Bank of Easton
Easton
MN
94.13
11
Anchor State Bank
Anchor
IL
93.29
12
AllNations Bank
Calumet
OK
93.27
13
Security State Bank of Wanamingo
Wanamingo
MN
93.26
14
Buckley State Bank
Buckley
IL
92.86
15
Community State Bank of Canton
Canton
OK
92.56
16
The Jefferson Bank
Greenville
MS
92.51
17
Farmers National Bank of Griggsville
Griggsville
IL
92.36
18
First Capital Bank
Quanah
TX
92.31
19
The First National Bank of Hereford
Hereford
TX
92.19
20
State Bank of Table Rock
Table Rock
NE
92.1
Agriculture: $500 million to $1 billion in assets

Rank
Bank Name
City
State
Ag Lender
Score
1
Points West Community Bank
Windsor
CO
92.91
2
First Bank of Berne
Berne
IN
90.87
3
Profinium, Inc.
Truman
MN
90.79
4
United Prairie Bank
Mountain Lake
MN
90.65
5
The First National Bank of Carmi
Carmi
IL
90.06
6
Legacy National Bank
Springdale
AR
89.89
7
BTC Bank
Bethany
MO
88.88
8
Diamond Bank
Murfreesboro
AR
88.84
9
Border Bank
Fargo
ND
88.34
10
Wheatland Bank
Spokane
WA
88.24
11
The First State Bank
Louise
TX
88.16
12
BCUSB Bank
Cresco
IA
87.59
13
Forward Bank
Marshfield
WI
86.87
14
Legence Bank
Eldorado
IL
85.73
15
CCB Community Bank
Andalusia
AL
85.59
16
Bank of Eastern Oregon
Heppner
OR/td>
85.53
17
Independence Bank
Havre
MT
84.87
18
Midwest Bank
Monmouth
IL
84.63
19
Elkhorn Valley Bank & Trust
Norfolk
NE
84.32
20
Dakota Community Bank & Trust, National Association
Hebron
ND
84.11
Agriculture: More than $1 billion in assets

Rank
Bank Name
City
State
Ag Lender
Score
1
United Bank of Iowa
Ida Grove
IA
85.58
2
The First National Bank In Sioux Falls
Sioux Falls
SD
82.46
3
Dieterich Bank, N.A.
Effingham
IL
82.10
4
Opportunity Bank of Montana
Helena
MT
81.71
5
Bank of Springfield
Springfield
IL
81.26
6
Oak Valley Community Bank
Oakdale
CA
80.97
7
American Bank & Trust
Wessington Springs
SD
80.41
8
First State Bank
Mendota
IL
80.01
9
American Bank Center
Dickinson
ND
79.65
10
Southern Bancorp Bank
Little Rock
AR
79.22
11
OakStar Bank
Springfield
MO
79.21
12
State Bank of Cross Plains
Cross Plains
WI
78.43
13
BankPlus
Belzoni
MS
78.27
14
Heartland Bank and Trust Co.
Bloomington
IL
77.99
15
Dacotah Bank
Aberdeen
SD
76.89
16
Live Oak Banking Co.
Wilmington
NC
76.48
17
First Western Bank & Trust
Minot
ND
76.44
18
The Bank of Missouri
Perryville
MO
76.18
19
Central Bank
Storm Lake
IA
76.02
20
Pinnacle Bank
Cody
WY
75.66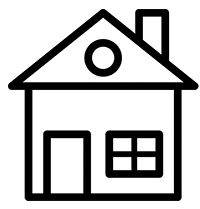 CONSUMER AND MORTGAGE
Austin Capital Bank finds success in unlikely places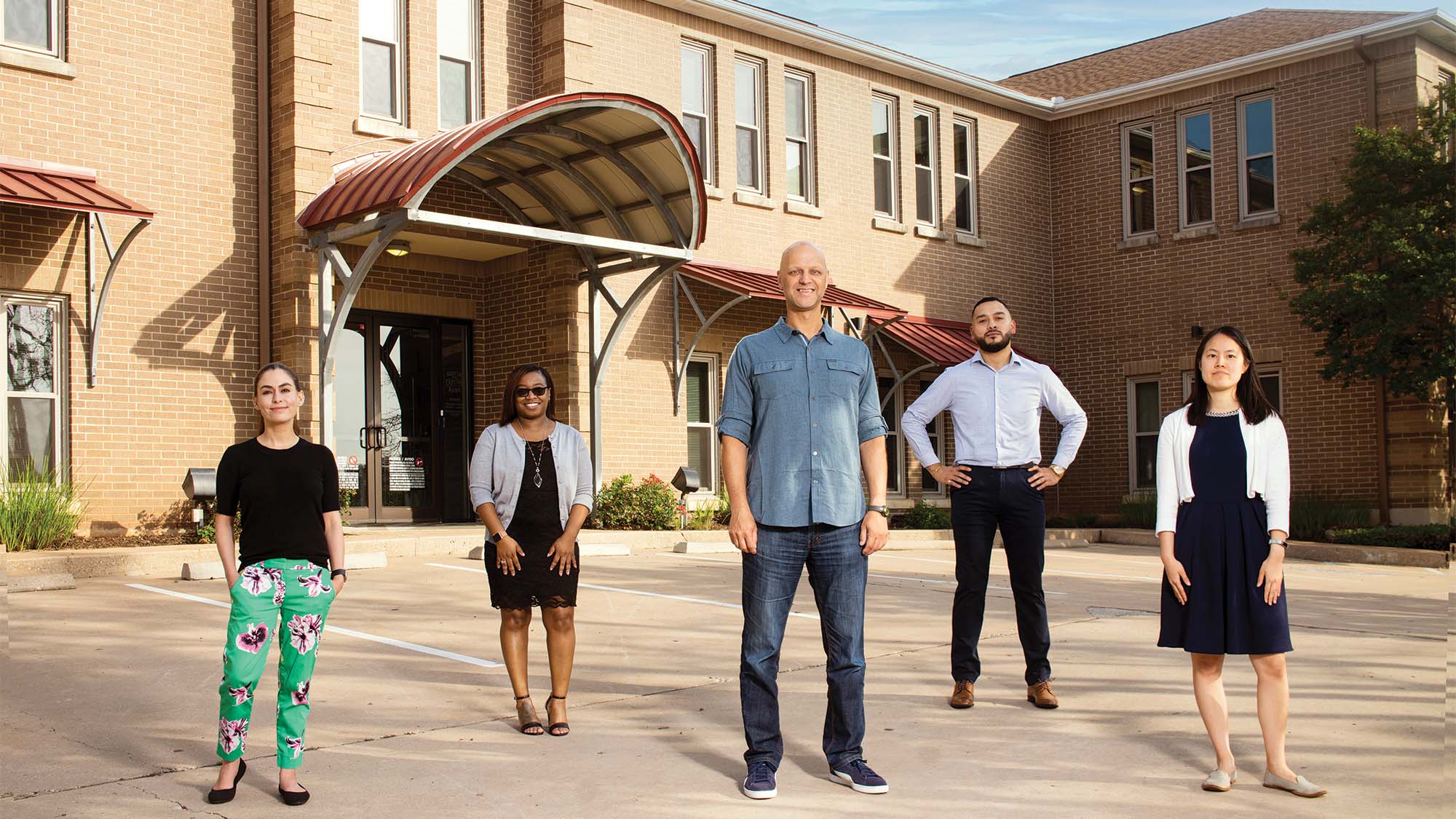 Austin Capital Bank's strength comes from the fact that it's a nontraditional bank—and that its founder and CEO, Erik Beguin, is a nontraditional banker. Beguin likens himself to a brand manager and the community bank to a fintech.
Austin Capital Bank
Austin, Texas
Asset size: $262 million
Consumer lender score: 99.30
Rank in category: 1
"When I go to banking conferences, I feel like the odd duck out," says Beguin, whose background is in brand and product management, including a short stint branding antiperspirant at Procter & Gamble. "A lot of community banks are running the same business model, but I read the OCC [Office of the Comptroller of the Currency] list of permissible bank activities, and I figure out which ones no one else is doing and do those."
Austin Capital Bank's innovative character is evident on its website. There, the community bank prominently features its financial technology services, including various consumer fintech products. The bank describes itself as "like ridesharing for banking" because as an organization it's technology-enabled and community-driven.
That clear focus on technology and innovation, plus the strength of its mortgage business, are the reasons 2020 was a successful year for Austin Capital Bank, Beguin says.
"I'm passionate about the community bank model. The reason I started the bank is that a community bank is one of the only entities that multiplies the wealth in the community it serves."

—Erik Beguin, Austin Capital Bank
"We're really a digital-first bank, so 2020 lent itself nicely to us," he says. "And we have a mortgage division, and 2020 was a banner year for that."
Austin Capital Bank wasn't always on the list of successful banks. When Beguin and a partner launched the community bank in 2006—right before the Great Recession—they hired other people to run it. But the bank's first two years were so rough that Beguin took the reins himself.
"When I took over in Q1 of 2008, we were the worst-performing bank in the state of Texas," he says, "but I was too stubborn to let us fail."
Taking the reins
Soon after taking charge, Beguin decided to stop traditional consumer and mortgage lending and focus on other markets, such as lending to investors.
"Lending to investors in Austin from 2008 to 2014 was fantastic," he recalls. "Since I'm not a banker, I created products for people who didn't fit the typical bank customer model. The success of those years got us over the hump and created a stable platform that has allowed us to build the technology platform and add the mortgage division."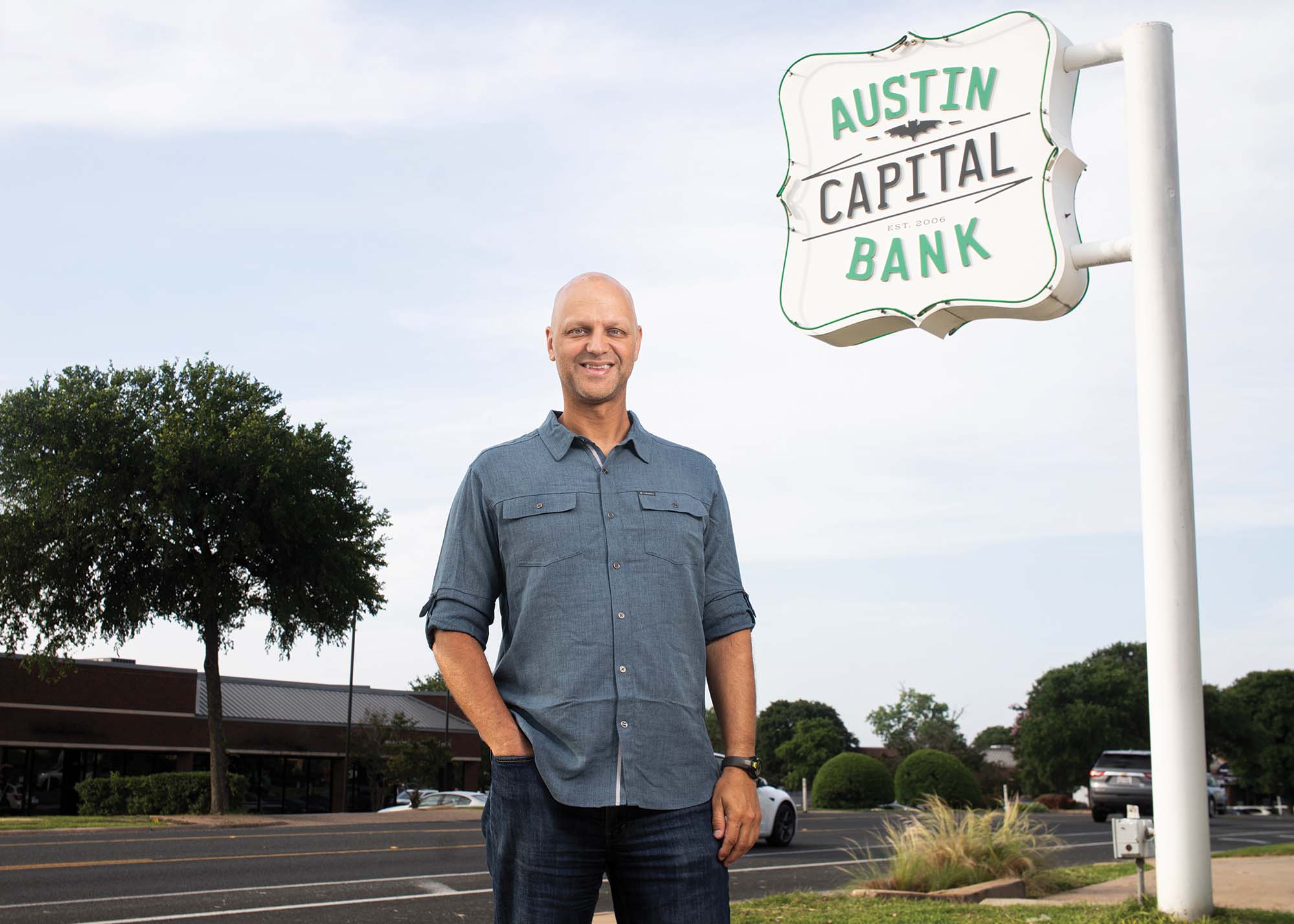 The community bank launched its mortgage division in 2018 and now has 14 loan production offices around the country. Its proprietary Trident technology platform, which Beguin may license to other banks in the future, allows Austin Capital Bank to offer financial services securely online.
Despite saying he's not a banker, Beguin has served on various bank advisory boards, such as the Federal Reserve's Community Depository Institutions Advisory Council and the CFPB's Community Bank Advisory Council.
"I'm passionate about the community bank model," he says. "The reason I started the bank is that a community bank is one of the only entities that multiplies the wealth in the community it serves."
Consumer/Mortgage: Less than $500M in assets

Rank
Bank Name
City
State
Consumer Lender
Score
1
Austin Capital Bank SSB
Austin
TX
99.3
2
Paramount Bank
Saint Louis
MO
99.2
3
The National Iron Bank
Salisbury
CT
97.21
4
First Federal Bank, A FSB
Tuscaloosa
AL
97.19
5
Second Federal Savings and Loan Association of Philadelphia
Philadelphia
PA
97.1
6
Fidelity Bank
West Des Moines
IA
96.13
7
Liberty Bank, Inc.
Salt Lake City
UT
95.79
8
First State Bank
Elmore City
OK
95.68
9
Citizens Federal Savings and Loan Association
Bellefontaine
OH
94.63
10
Gateway Bank, F.S.B.
Oakland
CA
94.25
11
The First National Bank of Gilbert
Gilbert
MN
93.88
12
The Miners National Bank of Eveleth
Eveleth
MN
93.32
13
Allied First Bank, sb
Oswego
IL
93.16
14
Schuyler Savings Bank
Kearny
NJ
93.1
15
Willamette Valley Bank
Salem
OR
92.69
16
Systematic Savings Bank
Springfield
MO
92.66
17
The City National Bank of Colorado City
Colorado City
TX
92.61
18
Citizens Guaranty Bank
Irvine
KY
92.35
19
Community Savings
Caldwell
OH
92.24
20
Citizens Bank of Morgantown, Inc.
Morgantown
WV
92.23
Consumer/Mortgage: $300 million to $1 billion in assets

Rank
Bank Name
City
State
Consumer Lender
Score
1
Georgia Banking Company
Sandy Springs
GA
97.87
2
Apex Bank
Camden
TN
97.03
3
One American Bank
Sioux Falls
SD
96.54
4
First Community Bank of Tennessee
Shelbyville
TN
96.37
5
Lead Bank
Lee's Summit
MO
95.77
6
William Penn Bank (MHC)
Bristol
PA
95.63
7
Evolve Bank & Trust
Memphis
TN
94.93
8
Magnolia Bank, Inc.
Hodgenville
KY
94.33
9
University Bank
Ann Arbor
MI
94.17
10
BankSouth
Greensboro
GA
92.10
11
Community First Bank
Walhalla
SC
92.07
12
Bank of England
England
AR
91.78
13
Presidential Bank, FSB
Bethesda
MD
91.32
14
Fidelity Bank
Metairie
LA
91.18
15
Cross County Savings Bank
Middle Village
NY
89.66
16
FirstBank
Antlers
OK
89.56
17
The Dart Bank
Mason
MI
89.41
18
Mechanics Bank
Mansfield
OH
89.23
19
Partners Bank
Sanford
ME
87.53
20
First Central Savings Bank
Glen Cove
NY
87.36
Consumer/Mortgage: More than $1 billion in assets

Rank
Bank Name
City
State
Consumer Lender
Score
1
Gateway First Bank
Jenks
OK
97.19
2
Northpointe Bank
Grand Rapids
MI
96.88
3
MidFirst Bank
Oklahoma City
OK
96.51
4
Metro City Bank
Doraville
GA
94.59
5
1st Security Bank of Washington
Mountlake Terrace
WA
92.01
6
Bluestone Bank
Raynham
MA
91.73
7
Martha's Vineyard Savings Bank
Edgartown
MA
91.27
8
Leader Bank, National Association
Arlington
MA
90.52
9
Plains Commerce Bank
Hoven
SD
89.73
10
First Savings Bank
Jeffersonville
IN
89.21
11
Cornerstone Bank
Southbridge
MA
89.07
12
Southern First Bank /td>
Greenville
SC
88.74
13
BNC National Bank
Glendale
AZ
88.52
14
Evergreen Bank Group
Oak Brook
IL
87.75
15
Meridian Bank
Malvern
PA
87.43
16
The Lyons National Bank
Geneva
NY
87.30
17
Blue Ridge Bank, National Association
Luray
VA
87.26
18
First Premier Bank
Sioux Falls
SD
86.77
19
Think Mutual Bank
Rochester
MN
86.70
20
Chelsea Groton Bank
Norwich
CT
86.55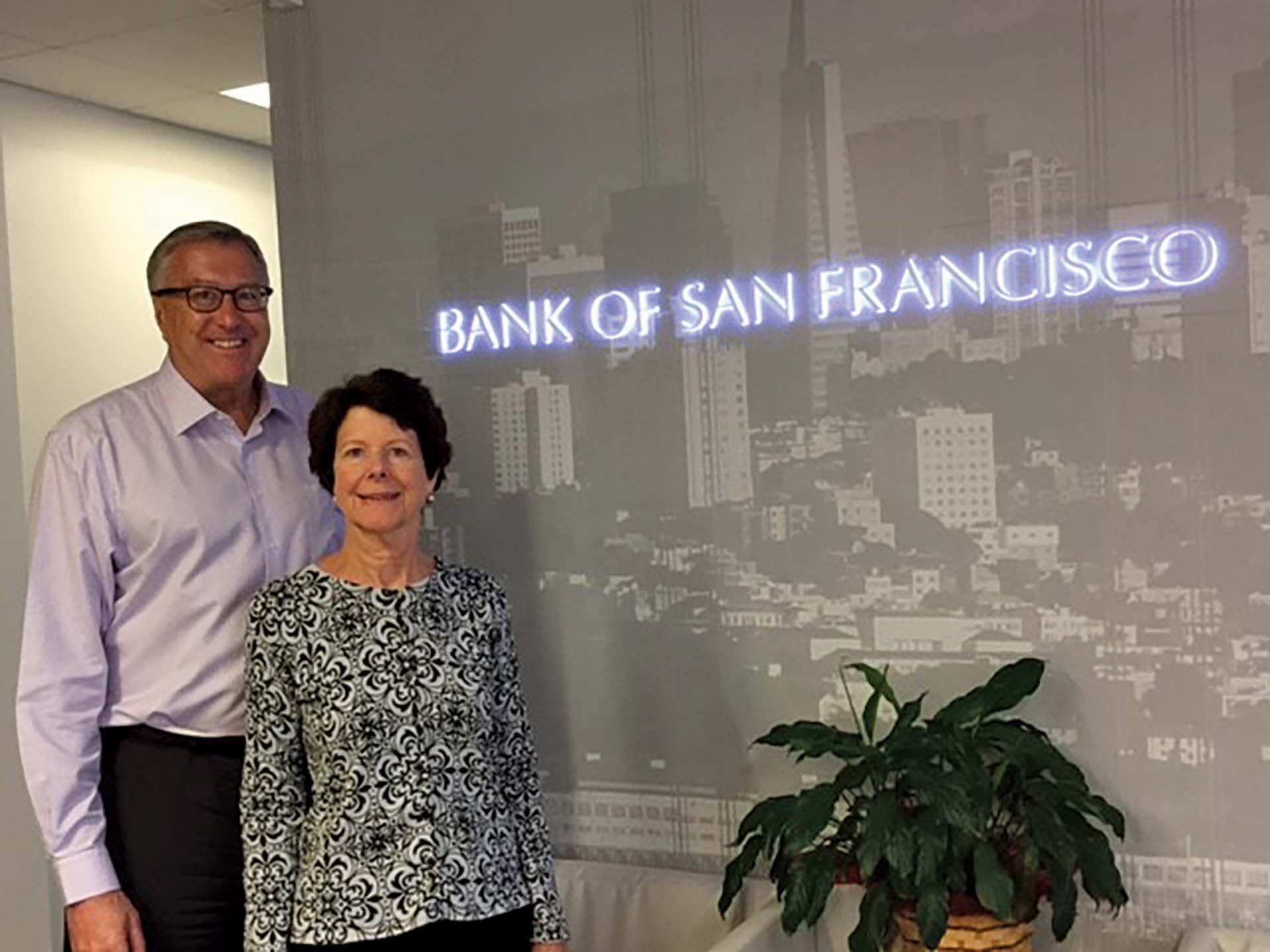 COMMERCIAL
Showing community banking's true colors
COVID-19 challenged community banks, but when they rose to that challenge, they showed why their model is different. Wendy Ross, president of Bank of San Francisco, says the pandemic showed the positive difference a community bank can make.
Bank of San Francisco
San Francisco
Asset size: $276 million
Commercial lender score: 94.61
Rank in category: 8
"We felt we owed it to our clients and the community to be as active in the PPP [Paycheck Protection Program] as possible," Ross says. "For several weeks, we took no weekends off, and I was getting emails at 2 or 3 in the morning. I think that intense period really brought home the meaning of community banking."
That effort by Ross and other Bank of San Francisco staff powered the bank to "an extraordinary level of growth" last year, Ross says. Among the clients served by the community bank's PPP lending was a restaurant owner who had failed to get a PPP loan from her—now former—much larger bank, Ross says.
"We found that a lot of the larger banks were slower than we were getting themselves ready to do these PPP loans," she says. "In the first round of lending in March, the funding ran out and there was this sense of panic. This client realized that her relationship manager at Bank of San Francisco had worked through the night to get her loan done, and when she got it, she cried."
Winning new business
The bank's success at securing PPP money for its clients—mostly small to mid-sized businesses and nonprofits in the greater Bay Area—not only generated revenue but also resulted in a number of new permanent clients for the bank, Ross says. Many were referred by current clients.
"Typically, our new clients come to us through referrals, and they're typically not getting the level of service they deserve through their existing banks," Ross says. "The PPP gave us some wonderful opportunities with clients whose existing banks weren't there when they needed them. They heard about us, saw us perform and now are moving their entire relationships to us."
Lending at Bank of San Francisco is a team effort, Ross says. Relationship managers initiate loans, and underwriters handle the credit work behind the scenes. A commercial banking associate also gets involved in most business customer relationships. And it's not uncommon for borrowers to meet senior management.
During the pandemic, the community bank's relationship managers regularly connected with clients over the phone or virtually to see how they were doing. They reviewed their portfolios with senior management quarterly, often giving updates client by client, Ross says.
"I think our clients really appreciated the fact that they were hearing from their banker regularly, and not in an adversarial way," Ross says. "Everyone was working collaboratively to get through this period. All in all, it's been heartening to see how our clients plowed through this period."
The Bank of San Francisco's work to help local businesses survive 2020 made true its slogan: "With You When It Matters."
"Boy, did last year really bring that slogan home," Ross says. "We are entrepreneurs serving entrepreneurs. And we have an undying commitment to our community."
Commercial: Less than $500M in assets

Rank
Bank Name
City
State
Consumer Lender
Score
1
Canyon Community Bank, National Association
Tucson
AZ
98.83/td>
2
FinWise Bank
Murray
UT
98.54
3
VisionBank
St. Louis Park
MN
98.14
4
BankVista
Sartell
MN
97.53
5
Metro Phoenix Bank
Phoenix
AZ
97.38
6
Flagship Bank
Clearwater
FL
97.20
7
Capitol National Bank
Lansing
MI
96.51
8
The Mint National Bank
Kingwood
TX
96.44
9
One World Bank
Dallas
TX
96.29
10
Farmers & Stockmens Bank
Clayton
NM
96.29
11
CapTex Bank, National Association
Trenton
TX
96.17
12
Quaint Oak Bank
Southampton
PA
96.07
13
Maple Bank
Champlin
MN
95.76
14
West Valley National Bank
Goodyear
AZ
95.53
15
Spring Bank
Bronx
NY
95.21
16
Tioga Franklin Savings Bank
Philadelphia
PA
95.08
17
Barwick Banking Co.
Barwick
GA
95.07
18
Georgia Primary Bank
Atlanta
GA
94.84
19
Blue Sky Bank
Pawhuska
OK
94.82
20
M1 Bank
Macks Creek
MO
94.38
Commercial: $500 million to $1 billion in assets

Rank
Bank Name
City
State
Consumer Lender
Score
1
First Bank of the Lake
Osage Beach
MO
99.88
2
The First National Bank of Ottawa
Charlottesville
IL
98.48
3
Cogent Bank
Orange City
FL
97.66
4
Old Dominion National Bank
Charlottesville
VA
96.75
5
Oxford Bank
Oxford
MI
96.71
6
The Freedom Bank of Virginia
Fairfax
VA
95.64
7
Hiawatha National Bank
Hager City
WI
95.17
8
Bank of San Francisco
San Francisco
CA
94.61
9
Pilot Bank
Tampa
FL
94.30
10
Village Bank
Midlothian
VA
94.07
11
First Utah Bank
Salt Lake City
UT
93.77
12
Timberline Bank
Grand Junction
CO
93.77
13
Summit State Bank
Santa Rosa
CA
93.40
14
First Citrus Bank
Tampa
FL
93.14
15
Commencement Bank
Tacoma
WA
93.00
16
Oregon Pacific Banking Co.
Florence
OR
92.66
17
Bank of Idaho
Idaho Falls
ID
92.54
18
Regent Bank
Tulsa
OK
91.58
19
People's Bank of Commerce
Medford
OR
91.33
20
Vinings Bank
Smyrna
GA
91.27
Commercial: More than $1 billion in assets

Rank
Bank Name
City
State
Consumer Lender
Score
1
Cross River Bank
Fort Lee
NJ
99.86
2
Quontic Bank
New York
NY
99.30
3
First Home Bank
St. Petersburg
FL
98.52
4
Live Oak Banking Co.
Wilmington
NC
98.33
5
Congressional Bank
Chevy Chase
MD
97.94
6
Wallis Bank
Wallis
TX
97.92
7
Santa Cruz County Bank
Santa Cruz
CA
97.91
8
Coastal Community Bank
Everett
WA
97.35
9
Cache Valley Bank
Logan
UT
95.25
10
Waterford Bank, N.A.
Toledo
OH
94.53
11
Citizens Bank
Elizabethton
TN
94.47
12
Riverview Bank
Marysville
PA
94.46
13
Sandy Spring Bank
Olney
MD
94.17
14
One Community Bank
Oregon
WI
93.39
15
Central Bank
Storm Lake
IA
92.75
16
CFG Community Bank
Baltimore
MD
92.53
17
The State Bank
Fenton
MI
92.36
18
Valley Republic Bank
Bakersfield
CA
91.53
19
b1BANK
Baton Rouge
LA
91.45
20
Blue Ridge Bank, National Association
Luray
VA
91.40
---