Name:
Lexicon Bank
Assets:
$237.6 million
Location:
Las Vegas, Nev.
Lexicon Bank in Las Vegas opened its doors in August 2019, not long before COVID-19 shut down the city's entertainment businesses.
"This is a Vegas bank," explains Stacy Watkins, who was named president and CEO of the $237.6 million-asset bank in the early days of the pandemic. "It was really impactful for us when the lights on the Strip went out—a very emotional, crazy time. You have a bank that was born out of COVID and could have gone the other direction but ended up thriving."
Lexicon Bank didn't wait long to make a splash, sponsoring the 2021 World Series of Poker. It also aimed to capture the gaming market with its Professional Poker Banking Program, which is open to players who have participated in at least one of the World Series of Poker tournaments.
Professional players' finances can be unpredictable and can bring increased regulatory scrutiny, making this a market many banks won't touch. But as a community bank that is there to serve the gaming hub of Las Vegas, Lexicon Bank welcomes these players with open arms.
Its Professional Poker Player Program acts as a concierge banking service for qualifying professional poker players who need special services like having funds wired ahead to their tournaments. It also accepts the occasional $1 million or $2 million deposit from winning players.
A natural fit
In 2020, six-time World Series of Poker (WSOP) winner Daniel Negreanus moved his winnings account to Lexicon after another financial institution closed his account—a development the community bank addressed in a press release.
Quick Stat
$52B
The gross gaming revenue of the gambling industry in the U.S. in 2021
Source: Statista
"With banking roots in the mecca of gaming for poker, serving as a banking partner for professional poker players was a natural fit for Lexicon Bank," said Russell Rosenblum, chairman of the board and a poker enthusiast, in the press release. "Our bank has direct contact with the poker community through personal relationships, business partnerships and community endeavors."
Those poker deposits, like all others at the bank, go through anti-money laundering screening by software linked to the bank's core system. But the fundamental risk management in the bank's professional poker program is old-fashioned Know Your Customer, done by people.
"The participating players sign a contract acknowledging that we're going to ask them questions and they need to be forthcoming," explains Hilary Nelson, SVP and director of operations and compliance. "We like to know our customers really well. What's nice is that the World Series of Poker publishes a list of anyone who plays, and we learn how many other tournaments they play in around the world."
That in-depth customer knowledge isn't just for regulatory requirements or to control risk; it also enables the community bank to provide other services.
"If a professional player calls and they need something that we're not able to do, we try to get them connected with someone that can," Nelson says. "We know who they are, we know what their transactions typically look like and we can connect them with somebody who can help."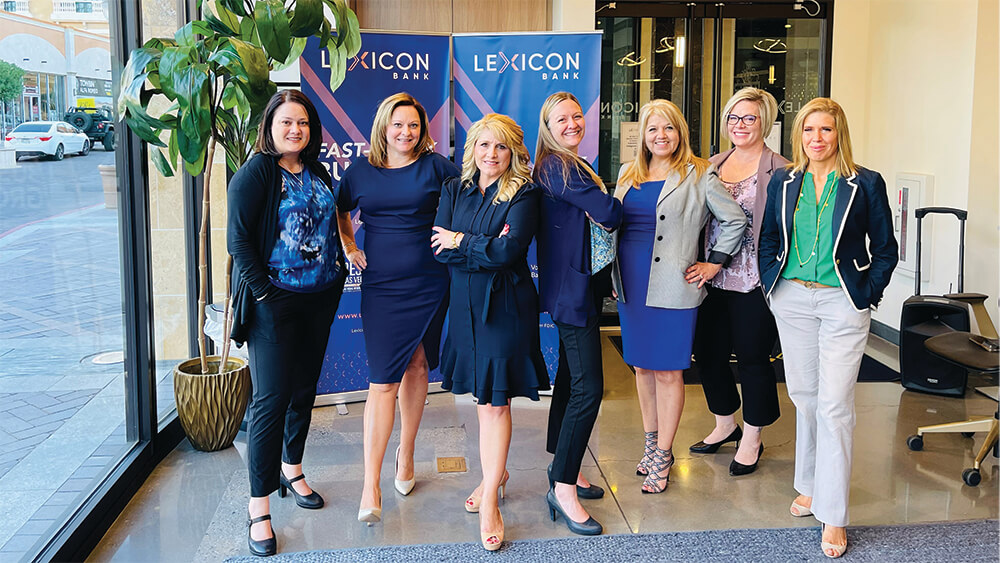 A small-business pipeline
While Lexicon Bank doesn't offer consumer or mortgage lending, it does do small business lending, which suits its market. Several poker players own businesses and have brought over those accounts to Lexicon. In addition, poker players have recommended other players and small business owners to the bank.
One example of this was a surgeon who planned to set up a surgical center but had little business experience, so he came to Lexicon for assistance. "We quickly introduced him to our broker, merchant service processing and payroll processing, and linked him to our insurance broker," Watkins says. "As a concierge bank, we were able to provide those value-added services that don't have a fee schedule. So we might not be getting $5 or $25 for that, but we're getting a relationship, a deposit account and potentially a commercial loan down the road. We're focused on the bigger picture."
"We do have legal businesses and industries that make Las Vegas thrive. We have found a way to service that and get the regulators comfortable. I mean, that's what a community bank does."


—Stacy Watkins, president and CEO, Lexicon Bank
Staying above board
With a large 14-member board of directors who know, and often own, local businesses, Lexicon has a local team that can make lending decisions fast, whereas outside banks can frequently be stuck with inflexible underwriting rules from headquarters.
"We do have legal businesses and industries that make Las Vegas thrive," says Watkins. "We have found a way to service that and get the regulators comfortable. I mean, that's what a community bank does."
Officers at banks restricted by rigid policies often recommend Lexicon to clients they can't accept, and Lexicon will take them on if they are legal, if the bank has a way to monitor them operationally and if they align with the bank's strategic direction.
When a director from the World Series of Poker called the bank chairman on a Sunday afternoon, he looped in Watkins and they planned for her and another team member to be at the bank at 8 a.m. Monday, before regular hours, to open an account in time for the client to catch a flight.
"I met with them and the banker at the branch, and we were able to facilitate that account," Watkins says. "It's worth several million dollars because of that concierge experience."
"We have businesses who say they want to bank with us because they want to give their dollar to a bank that's doing something for the community."
---