Exceptional Community Bank Service Award
American Savings Bank
Asset size: $9.2 billion
Location: Honolulu, Hawaii
asbhawaii.com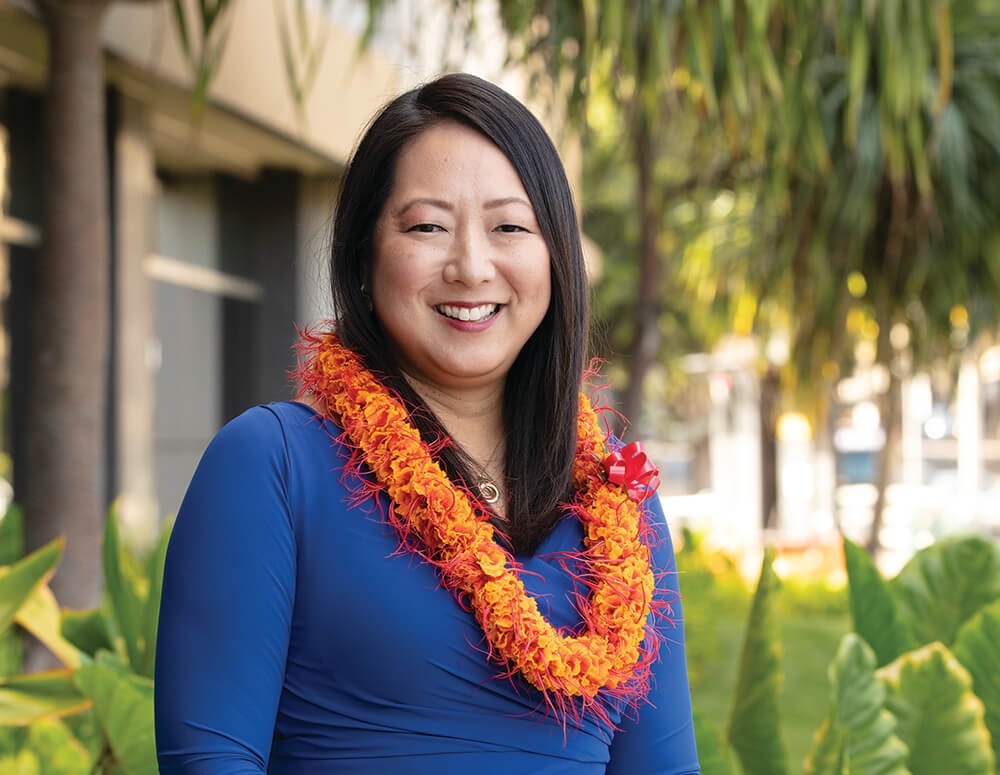 Giving from the heart
By Roshan McArthur • Photos by Olivier Koning
There's a word in Hawaiian—kahiau—that means to give generously without expecting anything in return, and American Savings Bank (ASB), a financial institution with an almost century-long history of community support in Hawaii, exemplifies that spirit perfectly.
With roots stretching back to 1925 and 38 branches across the Hawaiian Islands, ASB is one of the state's leading financial institutions. Yet the Honolulu-based bank's focus, says president and CEO Ann Teranishi, is firmly on its community.
Recognized as one of the best places to work by Hawaii Business Magazine for over a decade now, ASB has also been lauded by Fortune for its inclusivity, and it has a deep commitment to community service. "We understand that bringing real impact to our community means more than just giving financially," Teranishi explains. "It also requires year-round commitment of our time, 'sweat equity,' best ideas and leadership to support our focus areas."
These areas are improving education, strengthening communities and underserved families, promoting economic vitality by fostering innovation and entrepreneurship, and increasing access to affordable housing. In recent years, another major goal of the community bank has been the revitalization of 'A'ala Park in Kalihi-Palama, the neighborhood that's home to the ASB Campus, an 11-story office space that has served as the bank's homebase since 2019.
Supporting the underserved
To fund these goals, ASB initiated the Kahiau Giving Campaign in 2011, an employee workplace giving program named after that concept of selfless generosity. As Teranishi explains, "We decided we wanted to support more organizations in a meaningful way and get teammates more engaged in bringing real impact to our community. Rather than holding a handful of small fundraisers throughout the year, we decided to do one big splash effort."
The program helps underserved communities through five nonprofit partners: Child & Family Service, Kapiolani Health Foundation, Kupu, Partners in Development Foundation, and United Way Chapters throughout Hawaii. "We specifically selected these five Kahiau partners because their mission and values are aligned with our own," Teranishi says, "and because the support they provide to our community is critical to improving the health and well-being of our state."
Each year, ASB invites all 1,100 of its employees to donate, and it matches those donations up to $150,000. Since it was first set up, the program has collected nearly $3 million in donations for the community. In 2021 alone, it raised more than $360,000.
"We begin each annual campaign with a fun celebration," says Teranishi, "starting with our executive leadership team decked out in costumes greeting teammates as they arrive to work, followed by silly videos and posters of our leaders, snacks, photo booths, a virtual donor's wall of fame and certificates for participants.
"Our teammates love a bit of friendly competition, so we turn our Kahiau Giving Campaign into a fun challenge by dividing teammates into four teams to see who will be the first to reach 100% participation," she adds. "By engaging everyone in fun and meaningful ways and having our leadership team be the champions of this program, we've seen a dramatic increase in participation, from 46% to 97%."
Throughout the year, employees are encouraged to support the same partners through the bank's Seeds of Service program, which is where the sweat equity comes in. The ASB team has clocked up nearly 100,000 volunteer hours to date on projects that include landscaping, painting, meal preparation and teaching financial literacy at schools.
The community bank's Community Advancement team keeps up with its partners to make sure it's aware of new programs and initiatives—a fact that helped ASB scale up its efforts when the pandemic hit. In 2020, it donated $25,000 to local food banks, partnered with Child & Family Service to give out PPE supplies, groceries and hot meals to more than 400 families in Chinatown, and collaborated with Pint Size Hawaii and Mauna Loa Macadamia Nuts to distribute ice cream to healthcare workers. The following year, the community bank gave out cash prizes as part of Hawaii's vaccination drive and partnered with a local healthcare provider to host free vaccination clinics for the underserved.
---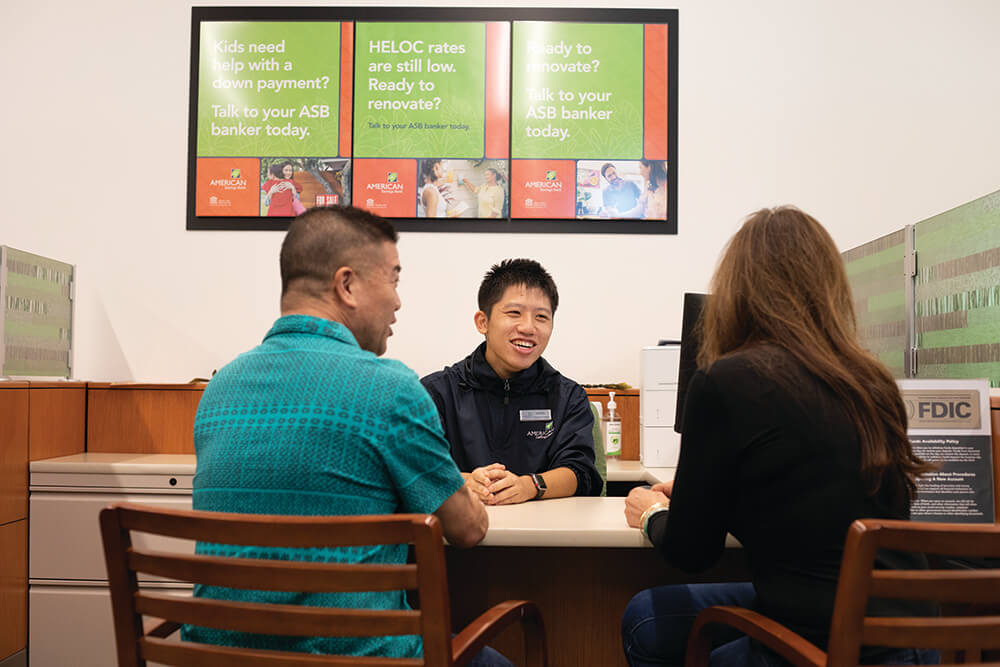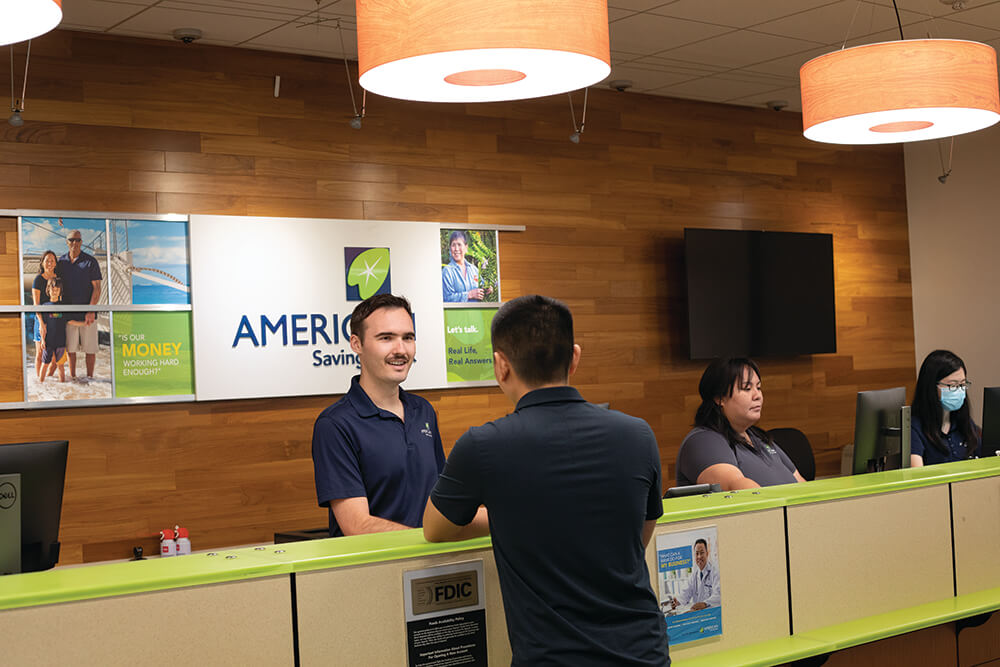 A focus on conservation
One of ASB's key partners is Kupu, a nonprofit founded in 2007 to empower local youth to serve their communities and conserve the environment. Since its inception, Kupu has worked with more than 5,000 young adults, planted a million native plants and removed more than 100,000 acres of invasive species. It also set up a culinary program, teaching food preparation using sustainable resources.
ASB has worked with Kupu for a decade. In 2021, it helped the nonprofit secure a Federal Home Loan Bank of Des Moines' Strong Communities Award for $15,000 to address the effects of the pandemic on the local economy. ASB also partnered with Kupu to set up a food truck in Honolulu from which culinary students serve healthy food using locally grown produce. The bank most recently donated $5,000 to Kupu's 2022 Environmental Fair, an annual event that promotes community engagement and career opportunities for youth and young adults.
Kepa Barrett, a Kupu alumnus who now serves as its external affairs officer, remembers sitting on Moa'ula Iki, the second highest peak on the island of Kaho'olawe, during Kupu's Hawaii Youth Conservation Corps summer program in 2011. "I'll never forget what I saw that day: a 180-degree view of Oahu, Molokai, Maui, Lanai and Hawaii Island scattered across a 200-mile expanse of the Pacific," Barrett says.
"I could feel my kupuna speaking over me that day," he says, referring to the spirit of an honored elder, "telling me it was my kuleana [responsibility or privilege] to protect and preserve our land—our 'āina. The support that American Savings Bank gives to Kupu provides opportunities like this for other youth and young adults to gain a different perspective on how they can give back to their community here in Hawaii. We could not serve Hawaii's community the way we do without the support of ASB, and we are deeply honored to partner with them."
Teranishi believes that involvement with nonprofits like Kupu also empowers the bank's employees, giving them leadership opportunities, encouraging teamwork and allowing them to forge connections at work and within the community.
"As much as we are grateful for the opportunities to support our community in various ways," she says, "we gain just as much in return. Giving is truly a win-win situation for everyone, and we are so proud of our teammates' commitment to take care of our customers, community and each other."
Emerging Community Bank Service Program
First Community Bank of the Heartland
Asset size: $370 million
Location: Clinton, Ky.
fcbheartland.com
Community involvement, year round
By Paul Sisolak • Photos by Brad Rankin Studio
In 2014, First Community Bank of Western Kentucky rebranded as First Community Bank of the Heartland (FCB) to reflect its expanded footprint outside of its home state. Five years later, in late 2019, it decided it wanted to do something big to give back to its coverage areas in Kentucky and Tennessee.
Team members initially launched an adopt-a-highway campaign, and while several bank associates followed through with a volunteer trash pickup along some local roads, bank leaders knew the stand-alone effort wasn't broad enough for what they envisioned.
Then, Melanie Hamrick, FCB's marketing director, and other branch managers attended a conference where they heard from another community bank that donated teddy bears to children entering foster care.
"We all came back from that and decided to come up with a community service purpose," recalls Hamrick. "The first thing we decided all together was opportunities in local child service centers."
From there, FCB's Make a Difference Program was born. The goal was to assemble duffel bags with necessities such as toothbrushes, toothpaste, shampoo, washcloths, diapers, lotion, deodorant, diaper wipes and other comfort items for families entering emergency shelters and child service centers, often in the middle of the night with whatever they could hurriedly take in garbage bags.
Diversifying the Make a Difference Program
Like the trash cleanup before it, the duffel bag project was only a stepping stone for more community initiatives, though it continues to this day. When pandemic lockdowns went into effect, FCB embarked on another community endeavor.
"It started with COVID in 2020," says Hamrick. "You heard all these stories about people in nursing homes not allowed visitors. It was a sad situation. One of the first things we did was put together goodie bags to be delivered to elder communities. We would knock on the doors and leave [the bags] there, and they would wave at us. They enjoyed seeing people because they weren't able to get out. I know how people to this day say how special it was."
After the success of the senior center project, Hamrick, along with FCB president and CEO Bruce Kimbell and other bank leaders, considered the possibility that the Make a Difference Program could evolve and expand into other diverse areas.
And so, in 2021, with the mindset that volunteerism is needed all year, not just on special occasions, FCB crafted a monthly calendar of other Make a Difference initiatives that continue to be honored companywide.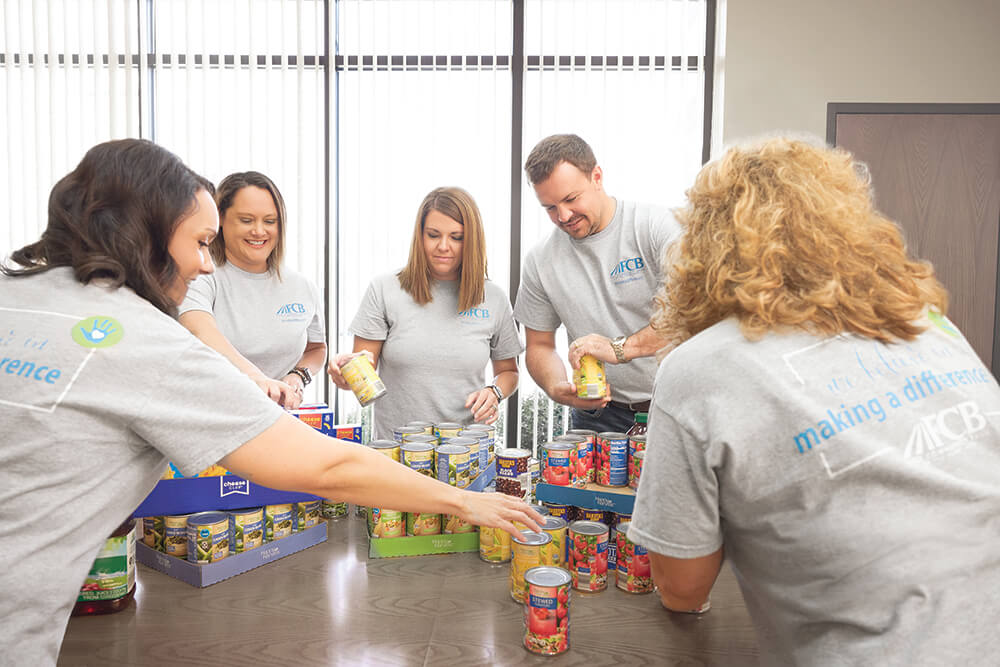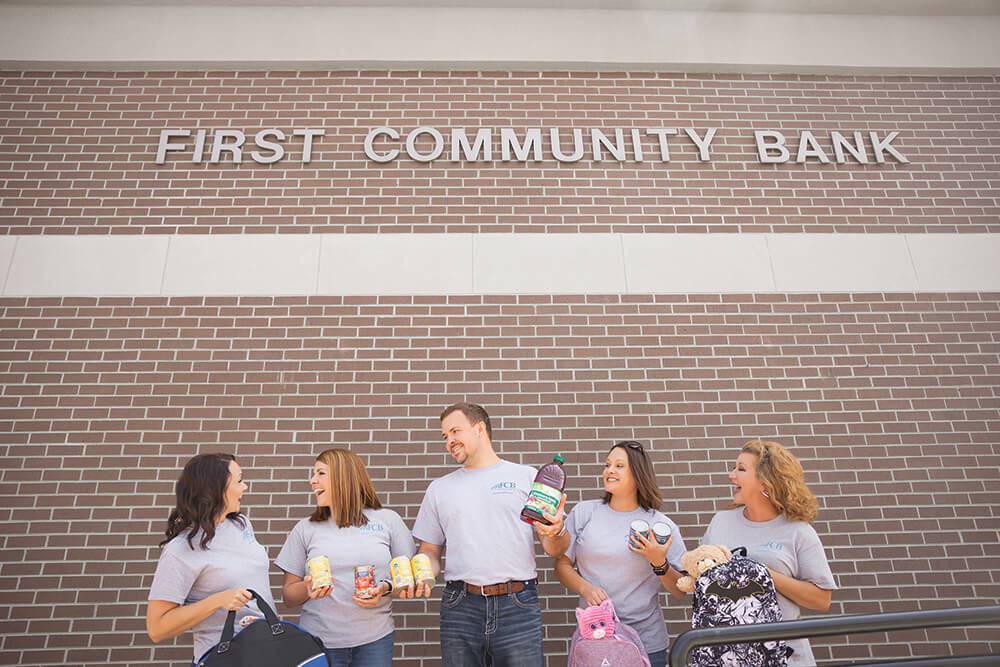 Creative community service
Each month's Make a Difference initiative is tailored to the needs of the community and influenced by what's important to FCB associates.
In January, for example, the bank celebrated Law Enforcement Appreciation month by bringing meals to local police and emergency agencies. April is Thank a Lineman month, with breakfast and treats for local electric companies during storm season. In August, FCB hosted several back-to-school bashes, taking goodies and handwritten notes of appreciation to teachers. Bank team members also purchased school supplies to donate to area schools.
"Some of our efforts are guided by where the hearts of our employees lie," says Leah Bennett, FCB's branch and marketing manager. Bennett gives an example of an employee whose son, a lineman, served as inspiration for April's event. "We saw a need, and they're not recognized enough. We see all [their] hard work and dedication and wanted to show that appreciation."
Bennett, a former blood recipient, was also one of the associates behind establishing a bank blood drive in June.
That's been part of the Make a Difference Program's success: FCB employees are encouraged to propose additions to the calendar that they're personally interested and invested in. "We try not to do what the status quo is doing; things that people will acknowledge. We want to be intentional," says Bennett.
According to Hamrick, FCB asks all 108 employees to participate in the Make a Difference Friday initiative each month and encourages them to propose activities and participate in as many as they like. "We really encourage the branches to look at other opportunities," she says. "To allow them to do what they're interested in, you get better participation."
Different branches can undertake different initiatives; Ballard County branch employees observed World Down Syndrome Awareness Day on March 21 by wearing fun socks.
Service is inherent in staff
FCB employees are well acquainted with service to others, with many serving as members of Rotary, Kiwanis and Lions Clubs, school boards and elder abuse committees. They also volunteer at senior centers and school and teacher appreciation efforts throughout the year.
Then there are the impromptu rescue efforts. In December 2021, when the bank's own chief operating officer lost her home in a tornado that ravaged parts of Kentucky and Tennessee, members of the Clinton branch joined forces to salvage, wash and clean her china, dishes and crystal.
The following day, three Tennessee branches handed out sandwiches to everyone in town when the power was still out. That same month, one employee took off a week from work and logged 67 hours volunteering with emergency management following the tornado.
In 2021, FCB logged a total of nearly 1,658 volunteer hours for fewer than 100 employees, and according to Hamrick, the community bank is already tracking to be 30% ahead of that number for 2022.
The Make a Difference campaign illustrates how community service and helping others is more than just a choice for FCB employees. It's a need.
"It's a sign of the good folks we have on our team," says Kimbell. "You hear of all these events, and being a rural community bank, our folks are attached to the community. Most of these communities are home to these folks for most of their lives. They are going to constantly be looking for ways to serve."
Honorable Mention: Exceptional Community Bank Service Award
Columbia Bank
Assets: $9.9 billion
Location: Fair Lawn, N.J.
columbiabankonline.com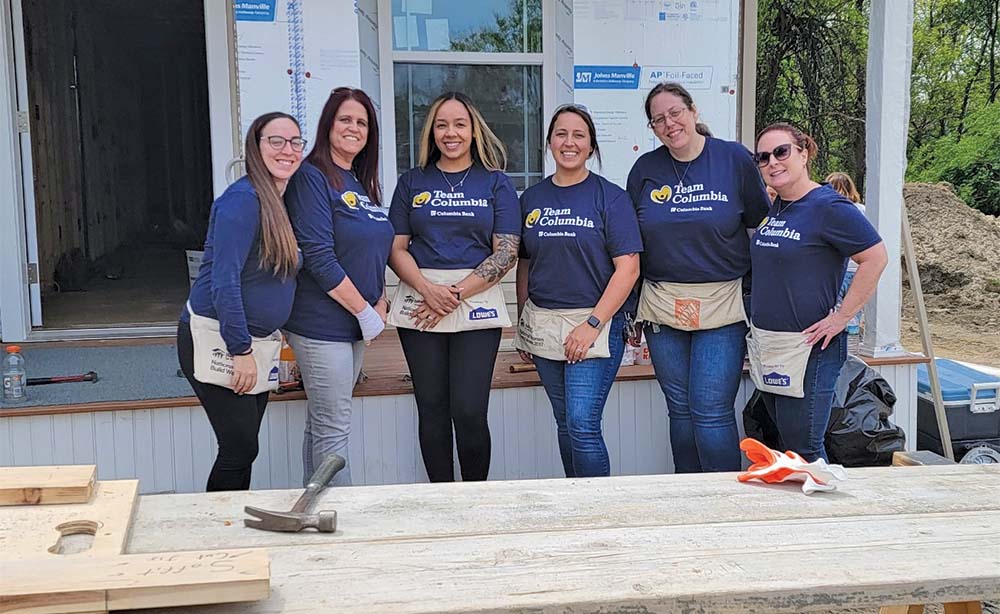 Columbia Bank's ever-growing giving
Columbia Bank is always ready to lend a helping hand through its Team Columbia volunteer program, which started small and is now a major part of its program of community involvement. Thomas J. Kemly, president and CEO, discusses the community bank's efforts in its local communities.
Q: How did Team Columbia start, and how has it evolved over time?
A: Years ago, we did volunteer events like build days with Habitat for Humanity. We did these as big team events and had a great experience and great success. So we asked ourselves, "Why don't we do more volunteering?" Today, our company has been volunteering for more than 30 years. It started as volunteering once per month and eventually twice a month. We decided to double it again and now we are doing over 100 events per year.
Q: How does the team make time for all that volunteering?
A: Columbia Bank makes time available for employees to volunteer during the work week. Sometimes we do volunteer on weekends, but most of the time it is during the work day. We help our team find volunteer opportunities and encourage them to participate.
Q: What are a few of the charities you've partnered with?
A: We have a lot of great charities that we've had long-term relationships with. CUMAC is a food pantry in Paterson, N.J., and we volunteer there often. Eva's Village provides meals and is a homeless shelter, also in Paterson, the city right next door to our headquarters located in Fair Lawn. We've had a long relationship with Habitat for Humanity, and March of Dimes has been a consistent charity we've worked with for years.
We also do a Week of Giving in November. We started that four years ago. The whole bank volunteers for an entire week. We put together 50 to 60 events—we sign everybody in the bank and have teams volunteer all over the state.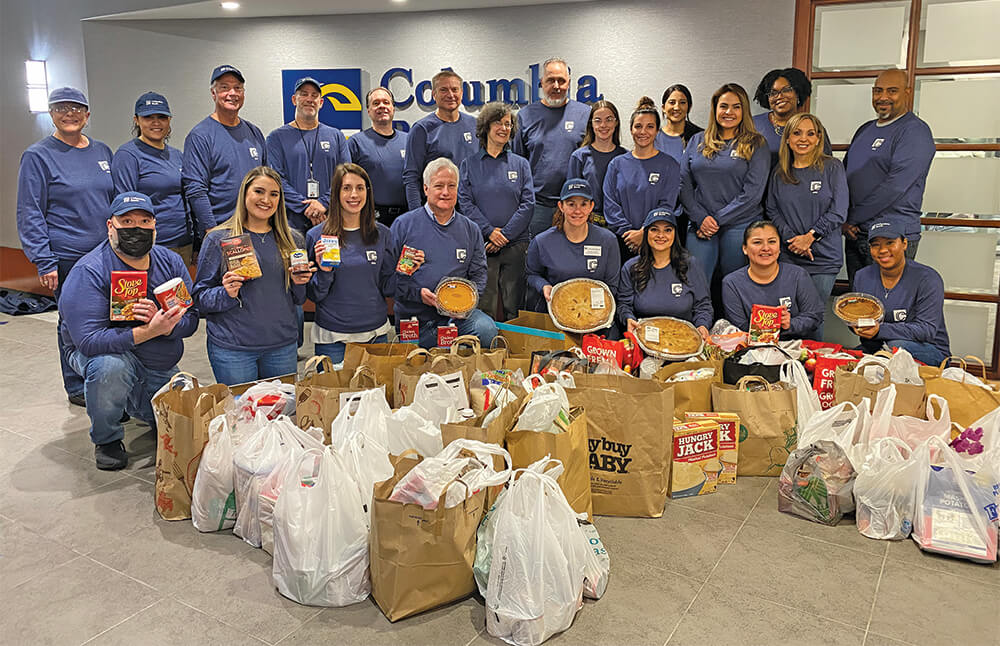 Q: Which initiatives have had the largest impact on your community?
A: We think every group we do work with is doing something important. There's a special group, The Phoenix Center, which is a school for [special needs] children, and we go each year when the school is on break and paint some part of the school, whether it's a hallway, a lunchroom or a gymnasium. They have been a longtime partner.
We also do the March of Dimes walkathon every year. It's a big corporate event where we invite employees and their families to donate money and support the walkathon. It becomes Columbia Bank, extended.
Q: How has the community responded to these volunteering efforts?
A: The community is very appreciative. A lot of times, these events help support incoming business relationships. The companies we volunteer for will often say, "We'd love to bank with you." We have a great nonprofit product that we offer called Columbia Cares. And when we do our Week of Giving, it's a corporate-wide, statewide event. We get nice remarks from so many people out in the public, because we're all over the state that week and we touch a lot of lives and people in our communities.—Rachel Hatcher
Honorable Mention: Emerging Community Bank Service Award
Ulster Savings Bank
Asset size: $1.3 billion
Location: Kingston, N.Y
ulstersavings.com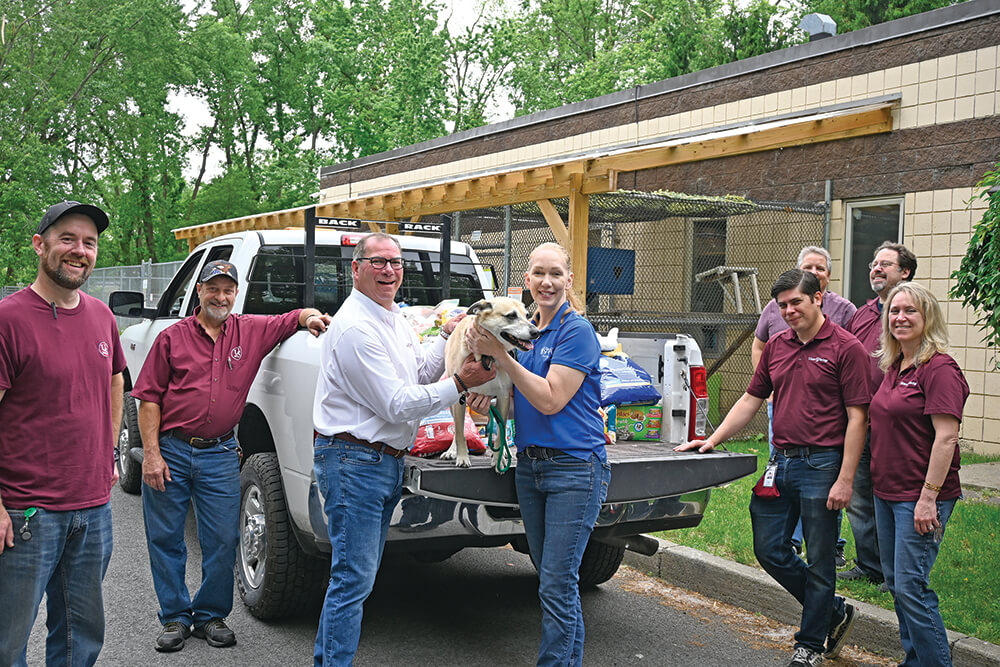 Planning makes perfect
Throughout its 170-year history, Ulster Savings Bank has successfully managed difficult and unexpected financial situations by prioritizing the needs of community members. Bill Calderara, president, tells us how—and why they put this experience to work during the pandemic.
Q: How did Ulster Savings Bank's history of navigating depressions and recessions prepare it to navigate the pandemic?
A: We triggered our pandemic plan very early in January 2020. We pulled it out hoping, at that point, that we were just going through an exercise and we wouldn't need it. But we pulled out the plan and made sure it was updated, ordered PPE, cleaning supplies and laptops … having had some history of going through this in the past. That way, when things really started to heat up [in March] and the governor [of New York] started to close a lot of operations, we were able to operate without missing a beat.
Q: What were some of the ways you engaged with your community during this time?
A: We started delivering finances to local food pantries because we knew that the demand would be greater. There wasn't government lending coming in immediately. We already give a lot to the community, but we upped it tremendously in 2020. We did the more proactive thing, walking out with a check and handing them to organizations that needed them or might not survive. We also started to buy meals for the local hospital workers and have them delivered, because we knew they were on the front lines. It also helped a lot of our local restaurants.
Q: How did you help your customers during this time?
A: We immediately put an announcement on our website that our customers could request loan deferment if they needed it. We granted more than 2,500 loan deferments, about $278 million [total]. We waived all our ATM fees for almost five months, knowing that many people might not be able to get to their own banks. We also waived our overdraft and NFS charges for about six months. When PPP [Paycheck Protection Program] came around … 58% of all the PPP loans that we did were $30,000 or less, 90% were $50,000 or less, so we were helping small businesses, and we could open up [PPP loans] to customers and noncustomers to help in a way national banks couldn't. We knew that we could be one of the pillars of strength in the community, and we tried to project a calming effect.
Q: How did the community respond to your efforts?
A: The growth that we went through during that period was phenomenal, because we ended up opening more accounts for people. So, they not only appreciated our efforts, but they also came through as new customers because of what we'd done for them and the community. We had business customers who to this day tell us we were the reason that they're able to stay in business. We had personal customers and people on our residential side with the closings we were able to do when they couldn't get them done anywhere else. They knew we were swamped, but they kept saying how friendly we were … people [didn't feel] like we were too busy for them. To this day, we've gotten thousands and thousands of letters, notes and emails from customers. One of my favorites was a tweet from one of our customers: "[I] love it when a bank goes all George Bailey in a time of crisis." —Sofia Haan
---
Roshan McArthur is a writer in California. Paul Sisolak is deputy editor of Independent Banker.