Wealth management is a well-rounded service that takes into account each client's bigger financial plan, through services such as investment management, financial planning, tax planning and estate planning. Wealth management is often seen as a high-end service, and some organizations offering wealth management services may have a minimum net worth or a specific threshold for investment assets.
While wealth management is most often offered by standalone wealth management and investment firms, more and more community banks are offering wealth management services to their customers. Offering such services is a good way for community banks to deepen and lengthen customer relationships and to create a new source of income.
While wealth management could be a good way to increase income and deepen customer relationships—depending on your market—the thought of building a new department from the ground up might be off-putting.
One option is to partner with a third-party provider to maintain your customer relationships while leaving the heavy lifting to your partner.

An alternate route to wealth management
While some community banks do have internal wealth management departments, staffed with their own specially trained and experienced professionals, other banks that want to provide wealth management services to their customers without going to this effort are finding success by partnering with third-party wealth management and investment providers.
Coulee Bank in La Crosse, Wis., is one of those banks. "Coulee Bank introduced its wealth management program in 1995 as a means to connect with our client base in an additional area of need," says CEO Dirk Gasterland.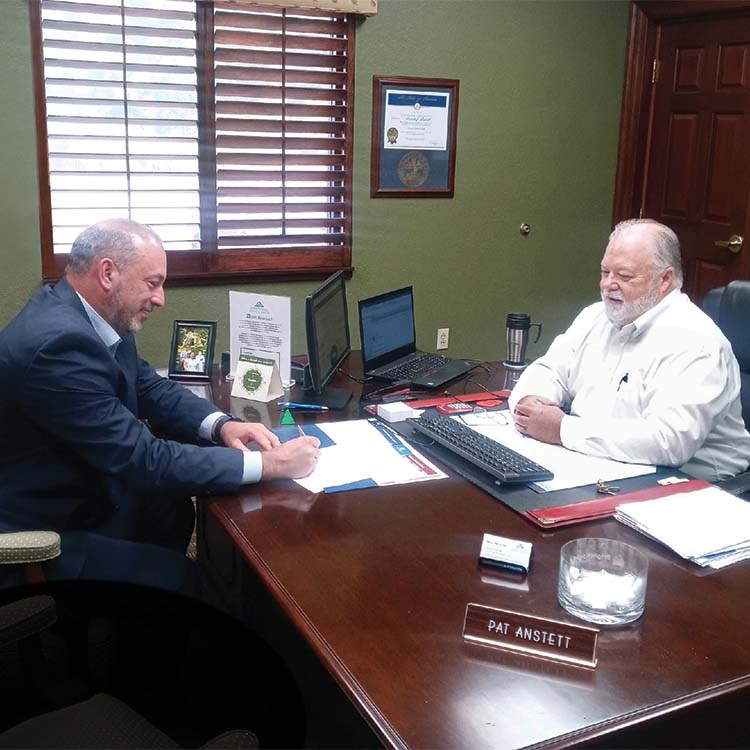 Through its third-party broker/dealer relationship, which is with LPL Financial (LPL), the $550 million‑asset community bank offers mutual funds, individual equities, bonds and managed portfolios. "We can offer anything that clients are able to get elsewhere," Gasterland says.
Another community bank utilizing the third-party provider wealth management option is $1.9 billion‑asset Commercial Bank in Harrogate, Tenn. The bank introduced its wealth management program in 1996.
"The goal was to add more services that the bank provides, and to add an additional revenue stream for the bank," says Pat Anstett, an investment service representative with the community bank.
Commercial Bank provides a full-service brokerage through LPL, which offers investment advisory accounts, retirement planning, annuities, stocks, mutual funds, exchange-traded funds (ETFs) and bonds.
Banks like Coulee and Commercial Bank reap the benefits that come from using the resources of third-party vendors. "Our third-party provider supplies the back office and compliance capabilities that we then don't need to have on staff," says Gasterland. "In addition, the continuing education process that LPL provides is helpful."
"[Our partner] provides the tools that we need to fuel growth and efficiency, so that I can focus on delivering an excellent client experience."

—Pat Anstett, Commercial Bank
How to identify a suitable wealth management partner
In looking for a third-party provider, Commercial Bank's main focus was that the provider have experience in working with bank programs.
"[Experience with bank programs] is important, because of the additional regulations and compliance required," Anstett says. "[Our partner] provides the tools that we need to fuel growth and efficiency, so that I can focus on delivering an excellent client experience."
Coulee ended up selecting its partner through working with Bankers' Bank of Madison, Wis. "Through our relationship with Bankers' Bank, we were able to ensure that our wealth management program managers were local, because they are employees of the Bankers' Bank group rather than just LPL representatives from San Diego," says Gasterland.
In terms of keys to success in working with a third party, Gasterland notes that communication has been the critical piece to the relationship working well.
"I talk to the program director as well as the head of compliance on a consistent basis, and they have been very helpful," he says. "They have also helped in the recruitment of our next representative. We have had consistent communication through all phases of the program."

A comprehensive wealth management operation
Coulee Bank's investment program involves a three-step process: First, assess the client's needs and finances. Second, prepare an individualized plan. Third, implement and monitor the appropriate strategy.
The program focuses on both short-term and long-term investment needs and involves:
Incorporating principled strategies based on each customer's risk tolerance, time horizon and goals
A rigorous screening process for ensuring top-quality asset selections
Asset allocation strategies to enhance and broaden return potential, diversification strategies of investments and accounts designed to minimize downside risk and gain broader market exposure
Connecting the appropriate investment vehicle to the corresponding time-based goal with the objective of long-term equity growth and prudent risk management and capital preservation strategies
In terms of feedback, Gasterland states that client feedback has really been tied to the investment representatives with whom the bank's clients work, because that is where the relationship is found. "The feedback we receive has been very positive and is valued [by] the bank," he says.
The program has not only benefited the bank's customers, but the bank as well. "There are times when clients are looking for a trusted source when investing in the market," he states. "Having the ability to recommend an individual who has an existing relationship with us sets people's minds at ease. It allows them to step closer in their trust of our institution."
Commercial Bank sees benefits to utilizing the third-party strategy, too. "[Our provider] keeps us up to date with SEC compliance, provides self-clearing of transactions, and provides back-office operations and support," says Anstett.
Customer feedback about their bank offering comprehensive financial services has been positive. "One of the main compliments I receive from our customers is that they can conduct their financial business all at one location," says Anstett. "Being a community bank is also comforting to them, because they know they can meet with me face to face and not have to call a 1-800 number.
"It has helped bring more assets into the bank," he adds, "as a result of knowing our customers and the additional needs they have with wealth management."
A combination of wealth management tactics works, too
While most community banks offering wealth management services either provide those services completely in-house or work fully with a third-party provider, at least one uses both. Merchant & Planters Bank in Newport, Ark., offers wealth management services primarily through its trust department. However, the $320 million‑asset community bank offers additional wealth management services through a third party.
"The decision to have two different avenues for wealth management mainly centered around the needs of the client," says Jim Gowen, Jr., president and CEO of Merchant & Planters Bank. "If a client is wanting to direct their own investments, then we utilize our third party. However, if they are wanting more guidance and direction, then they can utilize our services through our trust department."
The community bank's in-house trust department offers IRA administration, investment management, trust and estate services, and trustee and paying agent services, while the third-party provider offers investment services.
Merchants & Planters wanted to identify the best third-party provider for its needs. "We did this through market research, consultation with other community banks, demonstration events and listening to the needs of our clients," says Gowen.
The bank has found that the keys to success in working with the third party have been to make sure that its culture and business practices are aligned with those of the bank.
In terms of the future: "We are always evaluating products, services and processes," says Gowen. "We are a big fan of processes, and if a process is efficient and producing a desirable outcome, then we like where we are at. We never stop evaluating."
---